WHAT IS SOLANOEXPRESS?
SolanoExpress provides express intercity bus service throughout Solano County. Individual routes are operated by Fairfield and Suisun Transit (FAST) and Solano County Transit (SolTrans). SolanoExpress is managed by the Solano Transportation Authority (STA), which handles the Call Center.
WHY RIDE SOLANOEXPRESS? IT'S EASY—CONVENIENCE, COST AND COMFORT.
Convenience: SolanoExpress offers high-frequency peak service at morning and evening commute hours. Our routes serve BART, SF Bay Ferry and Amtrak. Our buses use the HOV lanes, so you can avoid congestion. Cost: SolanoExpress fares make it an affordable alternative to driving—especially when you include the wear and tear on your car. You can pay your fare with Clipper for even easier access. Comfort: Our buses are spacious and comfortable, to ensure a relaxing ride. We take the stress out of your commute—no more stop-and-go traffic. We give you time to do some work, read the paper or just sit back and enjoy the ride. Want to learn more? Call today and we can help you create a personalized trip plan that meets your travel needs: 800-535-6883  

Getting around Solano County just got a whole lot simpler. The new SolanoExpress service has color-coded routes and improved schedules with early morning and late evening buses that connect to BART and the SF Bay Ferry for easier commutes. SolanoExpress buses also serve Solano Community College and UC Davis so you can make it to class on time.
SolanoExpress Route Map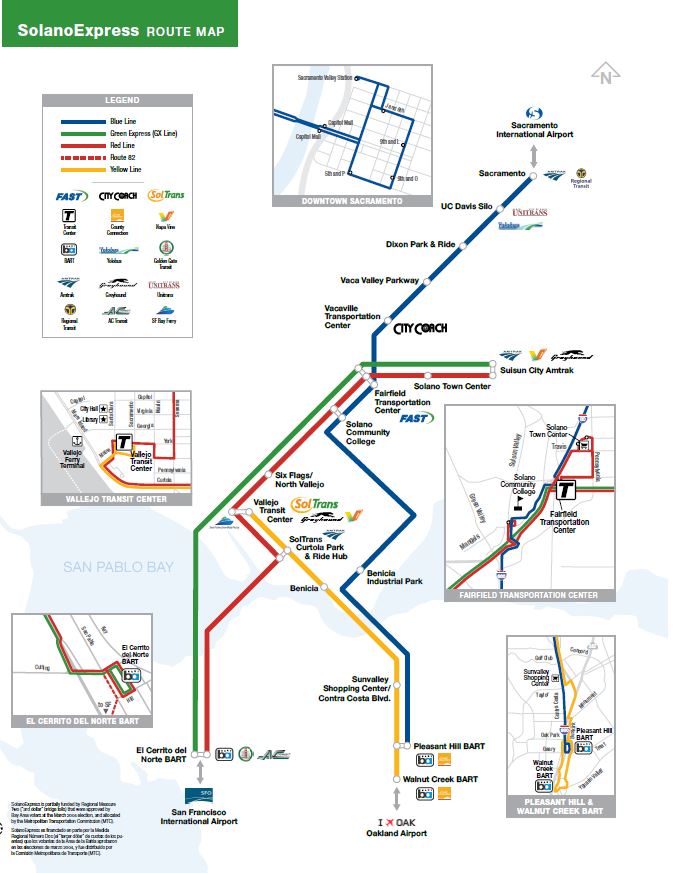 SolanoExpress Schedules:
If you have questions or want more information, please contact Brandon Thomson, STA Transit Mobility Coordinator, at bthomson@sta.ca.gov