RIDE SOLANOEXPRESS!
SolanoExpress is managed by the Solano Transportation Authority and provides express intercity bus service throughout Solano County.  Individual routes are operated by Fairfield and Suisun Transit (FAST) and Solano County Transit (SolTrans).
IT'S EASY—CONVENIENCE, COST AND COMFORT.
Convenience: SolanoExpress offers high-frequency peak service at morning and evening commute hours. Our routes serve BART, SF Bay Ferry and Amtrak. Our buses use the HOV lanes to avoid congestion as much as possible.
Cost: SolanoExpress fares make it an affordable alternative to driving. You can pay your fare with Clipper for even easier access!
Comfort: Our buses are spacious and comfortable to ensure a relaxing ride. Take the stress out of your commute—  do some work, listen to music or just sit back and enjoy the ride.
Want to learn more? Call our Solano Mobility Call Center today at: 800-535-6883.

Effective August 1, 2021:
Sacramento to Walnut Creek BART, stops in Fairfield, Vacaville, Dixon, and UC Davis
New Green Express Line Route GX
Suisun City/Fairfield to El Cerrito Del Norte BART
Suisun City to El Cerrito Del Norte BART, stops in Fairfield and Vallejo
Vallejo to Walnut Creek BART, stops in Benicia and limited Sun Valley Mall area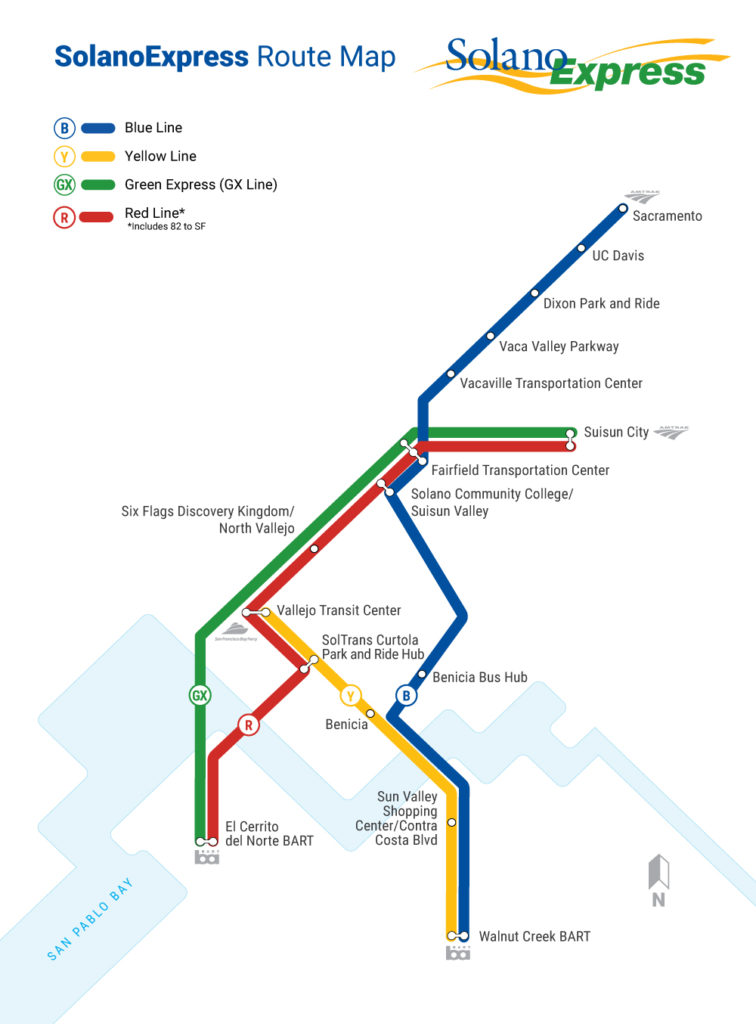 Walnut Creek Stop Details
Effective February 27, 2021:
Effective June 15, 2020:
All SolanoExpress routes will require passengers to wear facial coverings.
Fare collection on all SolanoExpress routes will resume. For reference, the SolanoExpress fares can be found below.

If you have questions or need more information, please contact Brandon Thomson, STA Transit Mobility Coordinator, at bthomson@sta.ca.gov.